As a clinician, Dr. Pamela has a mission to help people live fully without debilitating chronic pain. She is the Founder and the Clinical Director of Navarre Acupuncture and Wellness. Trained as an Acupuncturist and Herbalist with specialized training in chronic pain, failed surgeries, neurological disorders, and hormonal disorders. She is on a lifelong journey to bridge the gap between Ancient Chinese Medicine and present-day medicine. In merging the two, she strives to help others better understand their overall well-being and what they can do to optimize it for years to come.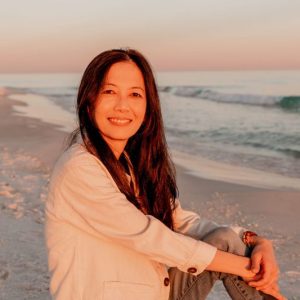 Dr. Pamela earned her Doctor of Acupuncture and Chinese Medicine (DACM) from the Pacific College of Health and Science, San Diego, California. She holds a double Masters in Traditional Oriental Medicine from the Pacific College of Health and Science, California, and a Master of Science in Philosophy of Science and Technology Studies from the University of Malaya, Malaysia, specializing in History and Philosophy of Science and Technology. Pamela completed her training abroad at Chengdu's Teaching Hospital University of Traditional Chinese Medicine (TCM). She also studied under the teachings of one of the grandmasters of Japanese Acupuncture, Ikeda Masakazu sensei.
Dr. Pamela is licensed by the Florida Board of Acupuncture as a Licensed Acupuncturist (L.Ac). She is a member of the Florida State Oriental Medical Association (FSOMA).
In her spare time, she enjoys cooking, sampling ethnic foods, and spending time with her husband and two chihuahuas. 
Dr. Pamela is available to discuss your personalized acupuncture treatment plan. She believes working together will help you achieve your goal of a pain-free life for quality living years.